Thomas shares his positive outlook on life

Thomas is a patient with LCH, and has overcome immense health issues with a positive, can-do attitude every step of the way. As a former volunteer EMT/fireman for over twenty years, he has an appreciation for health centers like LCH that are always here to help. His career path led him to working for an insurance company for over twenty years, followed by a large grocery chain for about twelve, and then his working life came to a halt because of his health conditions.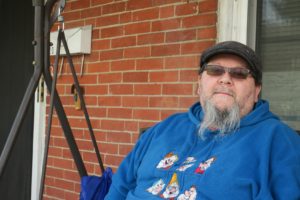 Thomas had a heart attack and lost 25% of the muscle tissue in his heart. He then had to have part of his upper right lung removed because of a benign lung tumor and sarcoidosis. Thomas was also diagnosed with Type II Diabetes and Neuropathy, a condition causing the nerves that reach the skin to die, eliminating feeling in the feet.
But Thomas manages day to day, and he keeps his positive attitude despite his challenges. He takes fast acting insulin twice a day and slow acting insulin three times a day to manage his sugar levels. Thomas monitors his diet and physical activity while maintaining his household. He enjoys cooking meals for his family with recipes and traditions from his Irish and Italian roots. His mom was a first generation immigrant from Italy, and his dad immigrated to America from Ireland on a work visa.
Thomas grew up in Delaware County. He and his wife wanted to settle in a great community with a strong school district, and the picked Oxford as their family home. Thomas has been living in Oxford for about twelve years. He has two sons, William, who is 26 and has Asperger's Syndrome, and Michael, who is 24, who is nonverbal and has ongoing special needs. "It takes a village to raise a child, but it got to a point where we could not provide all of that Michael needed. We needed a larger village." Michael transitioned to a residential group home in Lancaster for 1:1 care. Thomas and his family go to visit Michael in Lancaster regularly.
Thomas has been a member of LCH for several years now, finding us as his medical home after he got out of the hospital with a heart attack. He is excited to come for care in the new LCH Oxford location, which will be opening up downtown in the spring of 2001. We are inspired by his outlook on life and the joy he brings to his family and his community. "You have to try no matter what. Always look at the bright side, not the cloudy side."