Get Involved
Together, we can change lives in our community.
Our Supporters
LCH is a local nonprofit with 501c3 status. As a Federally Qualified Health Center (FQHC), LCH receives federal support to provide quality, extensive health and community services. However, more than half of our annual budget must be raised by philanthropy.
With the support of the community, foundations, businesses, and individuals, LCH changes lives.  From volunteering to donating, each effort of community support goes back to providing direct services to our members.
Our sincerest gratitude to the organizations that are currently supporting the LCH Mission:  Access Matters, Blue Yak Foundation, Cabot Kjellerup Foundation, CCRES, Chester County Commissioners, Chester County Community Foundation, Chester County Fund for Women and Girls, Chester County Women's Commission,  Claneil Foundation, Delta Dental Foundation,  Direct Relief, Domestic Violence Center of Chester County,  Health Care Improvement Foundation,  Independence Blue Cross Foundation, Independence Foundation,  Marshall Reynolds Foundation, Mushroom Festival, NBC Universal Comcast, Oxford Area Foundation,  Pennsylvania Coalition Against Domestic Violence (PCADV), The Pew Charitable Trusts, Philadelphia Foundation, Rotary Club of Longwood Foundation, Springbank Foundation, Unidos US, United Way for Greater Philadelphia and Southern New Jersey, United Way of Chester County, United Way of Southern Chester County, and Walmart Foundation.
Click here to view the supporters page in our most recent annual report. Please contact Kate Wickersham, Director of Development, if you are interested in donating to LCH.
Half of our members live on a family income of less than $29,000 a year, and 85% of our families live on a family income of less than $49,000. LCH provides health and community services that families would not otherwise afford.
Donate
Your gift will provide essential medical care, respond to families facing financial and domestic crises and teach skills that will help clients get better jobs and support their families.
Did you know...
A donation of $140 pays for an entire community health screening for a patient who otherwise could not afford health care. $5,600 covers the cost of an entire health screening, seeing up to forty people in one day.


An average patient costs LCH $770 per year to provide care, which is significantly less than the cost of a hospital to provide care to that same patient. This saves thousands of tax dollars each year.


For every $100 raised at LCH, $81 goes back to providing direct services.


LCH is southern Chester County's most accessible mental health provider, offering counseling to all regardless of ability to pay, and integrating their mental health care with their physical care and with any social services they may need.


Through the Affordable Care Act, LCH has on-site resources for any member in the community to be screened and to apply for the health insurance marketplace.


Our Women's Health Center makes sure women's health screenings (for breast and cervical cancer) are accessible to everyone at the appropriate age.
Donate by credit card
Click here to submit a one-time or recurring donation via credit card.
Donate by check
Checks can be made payable to LCH Health and Community Services and mailed or dropped off to main office 731 West Cypress Street Kennett Square, PA 19348.  We are open 8:00 a.m. – 5:00 p.m. Monday – Thursday and 8:00 a.m. – 12:00 p.m. Friday.
Donate through stock
Contact Kate Wickersham at 610.444.7550 X 283 or kwickersham@lchservices.org to learn how to set up a stock contribution.
Donate through Amazon
With every eligible purchase, AmazonSmile donates 0.5% to a charity of your choice. Click here to choose LCH Health and Community Services when shopping online.
Consider a planned gift
You can help build a sustainable future for our work. Contact Kate Wickersham at 610.444.7550 X 283 or kwickersham@lchservices.org to learn about our planned giving program.
Make a gift to honor a loved one
A tribute gift is a thoughtful way to honor someone you care about by investing in the well-being of the community in his or her name. We will be happy to notify the honoree or the family member of your choosing.
LCH seeks to protect the privacy of our donors. For this reason, we guarantee that no personal information received through the donation process, whether it be conducted online, through personal communication, or through any other method, will be shared or sold with any other parties or organizations without the donor's explicit permission. Additionally, LCH will not use this information to send donors mailings on behalf of other organizations.
In-Kind
LCH provides extra support to families in need through the generosity of in-kind donations.
Gift Cards
Gift cards to local stores in values of $10 to $25 such as Walmart, Walgreens, Rite Aid, and Giant are used to help support families across all of our services, whether they are in need of extra support to pay for their medications or in need of clothing, food or school supplies.
Small Fitness Equipment Items
New fitness equipment items, such as soccer balls, basketballs, hand weights and yoga mats to give to families that are participating in our wellness programs and initiatives.
Coat drive
Through LCH's closet of caring, we distribute hundreds of new winter coats, hats, gloves, and scarves to children and adults in need.
Book drive
LCH offers new children's books (ages 0 – 10) written in English and/or Spanish to all pediatric patients during their visit.
Where in the World is LCH?
Volunteer
Volunteering your time and talents helps your neighbors live healthier, more prosperous lives.
LCH offers volunteer opportunities in our Health Center and community. The support of our volunteers allows LCH to spend more time providing direct services to those in need. No task is too small for volunteers. Every project helps us change lives.
Your Help Makes a Difference
We are so grateful for the hard work of the LCH volunteer team, and welcome you to join us in supporting our mission. Volunteers often help at community events, office administrative tasks, and special projects. We would love for you to join us!
Getting Started
Please fill out the contact information form and a member of LCH will contact you.

Health Center Internships:
LCH partners with several universities including CAT Brandywine, University of Pennsylvania, Villanova, and West Chester University to provide internships and other service learning opportunities for nursing, medical assistant and social services students. Contact your service learning office for more information.

Behavioral Health Internships:
LCH has training affiliations with several graduate and undergraduate programs.  We provide an Integrated model experience for those in a social work or counseling programs. Contact us at 610-444-7550 to learn more. Internships include Behavioral Health Integrated within Primary Care and Case Management through our Social Assistance Department.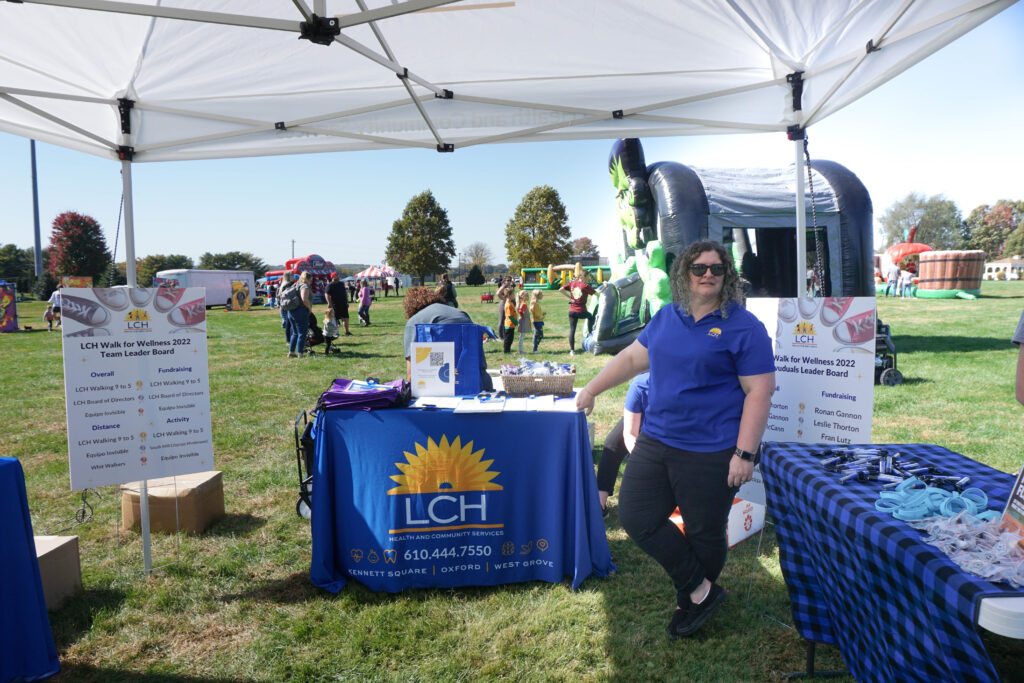 Outreach Ambassadors

Close

Outreach Ambassadors

Join the LCH outreach team to raise awareness about our services. Volunteer ambassadors help to get the word out in the community. Attend local events and greet members in the reception area for special programs. Nurses are welcome to join us to provide small health screenings during events!  Schedule is flexible.  Spanish conversational skills a plus but not required. Contact: Norma Diego. 

Community events include:

Oxford First Fridays (Year-Round)
Healthy Kids Day (April)
Cinco de Mayo (May)
Mushroom Festival (September)
LCH Amigos Dinner (November)
LCH Coat Drive (December)

Community Engagement and Education Manager

Close

Community Engagement and Education Manager

Provide support to teachers and students in our GED classes (in Spanish), citizenship classes, and other Education Programs. Contact: Norma Diego-Flores
Sep 5, 2023

Aug 31, 2023

Jul 10, 2023
LCH Changes Lives
I can see this community growing, and getting stronger as a result of LCH's efforts. I am proud to be a part of this community, and so thankful to have a resource like LCH close by for our families.

Thanks to LCH, I have my life back. I found a job, and I was able to quit smoking.

I cannot say enough about LCH. Southern Chester county is a wonderful place to live because LCH strengthens our community.