Starting the New Year Right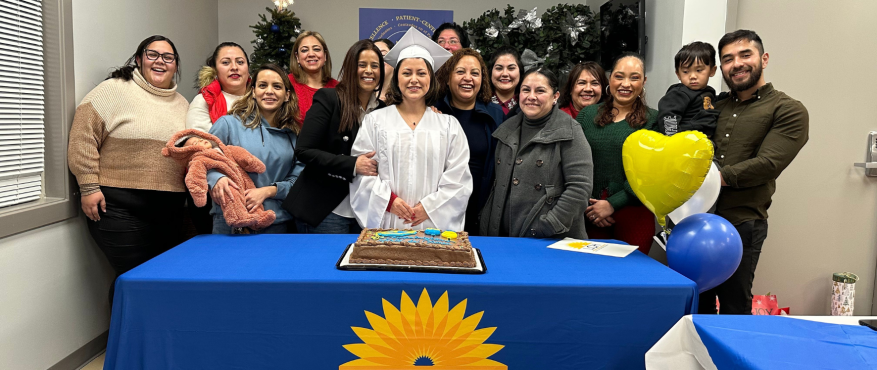 LCH has been helping people in our community to fulfill their goals for 50 years. One of the ways we promote a healthy community is by providing educational resources, like our GED program, so community members can achieve their educational goals of a high school education. We are proud of all of our GED students for taking the first steps to success with LCH.
LCH recently had a new graduate from the GED program. Maria del Carmen Ayala found out about the GED program as a patient with us and picking up a flyer at her appointment. She passed her courses and celebrated her graduation from the program with her friends and family.
"It was very good! Everything was very practical – connecting online, made it easy so that people have the opportunity to continue their studying," said Maria.
We strive to knock down barriers for our community so they can be successful. According to the Community Engagement and Education Manager, Norma Diego, "Before the COVID-19 pandemic, classes were offered in person. During the pandemic, LCH had to choose between stopping classes for a while or starting to do classes online. LCH decided to continue class online. This was the best decision as it eliminated multiple student barriers like transportation and childcare. The determination to offer online courses has increased the number of students. Right now, there are 30 students taking classes".
She also mentioned that members of the class come from different backgrounds and different reasons for why they chose to continue their education. For Maria, she was looking for the satisfaction of completing her GED and now wishes to continue her education.
When asked how she felt upon getting her GED Maria said, "Very good! I feel excited to have been able to accomplish it. I feel relaxed, proud, and at the same time secure in knowing that I have accomplished something new."
If you or someone you know is interested in our GED classes or other educational resources reach out! Our GED classes are online and divided into two semesters per year and students are welcomed in the beginning of each semester. Call us at 610-444-7550 for more information!