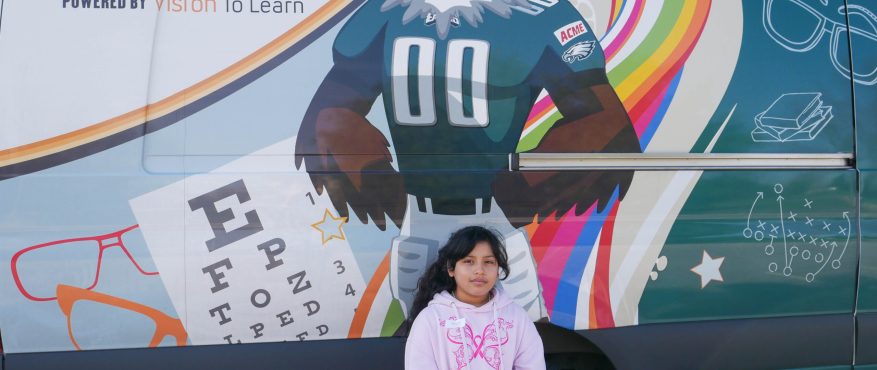 In 2020, 7-year-old Ingrid started noticing something different with her sight. Everything started to seem blurry in one of her eyes. Day by day this blurriness did not go away. This prompted Ingrid's mother to worry and wonder how could Ingrid's sight be checked?
Maria Magdalena Chuva Chuva has been a patient with LCH since she moved to Pennsylvania. As the years went on each member of her family started to be seen with an LCH provider. Eventually it became Ingrid's turn to be seen by our Pediatric provider, Atley Aaron.
Atley noticed Ingrid couldn't see out of one of her eyes and thought it was best to refer her to an optometrist. Without insurance the cost for an eye doctor visit and glasses was going to be insurmountable. Maria was relieved when she saw the flyer for the Eagles Eye Mobile powered by Vision to Learn was visiting LCH.
Getting her eyes checked was essential for Ingrid and her family. For a mother, whose daughter isn't seeing as she should, it was frightening. "… She would start seeing blurry. From there we had her checked in Ecuador and the Guadalupe Foundation was able to help us. We then immigrated here when Ingrid was 10, and someone told me about you, and they said you were good. I was being seen (at an LCH appointment) and that's when I was told about the glasses that were going to be given out for kids for free, so I took advantage of that".
Thankfully through the LCH partnership with the Eagles Eye Mobile powered by Vision to Learn, Ingrid was able to have her eyes checked and received new glasses for free. Maria states, "I'm ecstatic that she got her glasses." When asked how Ingrid felt with her new set of lenses Maria said, "She's so happy you can't imagine! She's so happy with her new glasses."
Caring for our patients of all ages is part of our mission. We are beyond happy to have partnerships that can assist in making our mission possible. Ingrid can protect her eyes with her new glasses and continue her care with LCH by her side. "Thank you so much! I thank you with all my heart!" said Maria.
If you or someone you know is in need of a care provider, call us today at 610-444-7550 to schedule an appointment with our team.