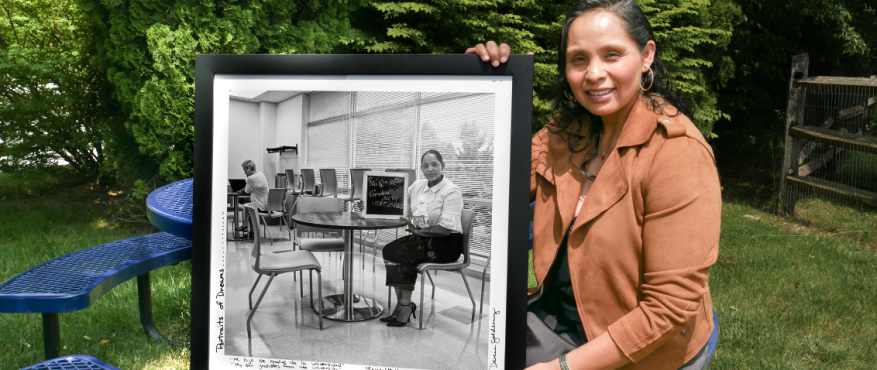 The road to accomplishing your dreams can be long with many obstacles. Life can get in the way of reaching your goals, but when you set your mind to something there is nothing you can't accomplish. For Maria, that has been her mantra for herself and her children.
When her oldest child made the decision early on that he wanted to go to college, Maria made it a mission to do everything in her power to support his goal. His dream of attending college became hers and together they worked to make their dream come true.
"He and I have a tough story. I had him when I was 15 years old, and his father left us with his family. The day he came to the US his mother told me that from that moment on I could not touch any of her things, her dishes, nothing and I could only visit my family once every two weeks. There were days where we didn't eat, but we survived. I fell one day and there was no one to help me and look at me, I survived. I don't know how but God helped me. So, I've always told him that he is my warrior, and I will always be here to support him."
There were several obstacles in Maria's path. From a young age Maria began to learn difficult lessons about those around her. She knew that if she wanted to move forward for herself and her children, she was going to have to do it on her own. She followed the father of her children to Pennsylvania, but still felt alone. With family in Georgia, Maria didn't know where to turn when she needed help.
15 years ago, Maria was pregnant with her second boy and heard about LCH through a friend. Since then, she has been a patient with the team that has supported her as she worked through the phases of her life.
In 2018 her first son, graduated high school. He was eager to continue his studies, but with limited resources – he didn't know if he would be able to continue his educational journey. It became Maria's mission to support her son in any way she could.
That same year Maria was selected to be featured in the Portraits of Dreams photograph project from photographer, Darcie Goldberg. These images showcase people from our LCH community and their grandest dreams.
Maria knew exactly what her goal was at that moment; she wanted to see her son graduate from college. This May, her son has graduated from West Chester University!
"Yes, thank God last Saturday was his graduation. It was a very hard journey! One of my greatest goals was this one because… he couldn't get any loans from the college or the bank. You have to learn how to budget the little money you have coming in and I'm a mother of 5. It was difficult but not impossible and he's always worked a part time job and has been able to pay for his books, his car, and I think that this was one of my goals. I think that when you do things with love it doesn't cost as much. You have to teach your kids that it's not impossible to do things and teach them to focus and put all their effort and their time in and they can accomplish what they want. More than anything this was setting an example for my other kids…"
Maria attributes her health and support for her family to LCH. Throughout the years of enduring many challenges, Maria persevered without the pressure or fear of who was going to take care of her. With LCH, Maria had one less thing to worry about when providing for her family.
"You really support people like me that have many kids and all of a sudden you can't pay because you don't have insurance…," said Maria.
Although Maria has endured a lot, she's found the value in everything she has experienced. "Every phase of my life, with difficulties or not – I am thankful for. Because of those moments I am who I am. If I hadn't gone through that I would've never grown, and I wouldn't have any advice to give my children. Now I know you can do anything; you just have to give it all your effort… I tell my kids that the only person that needs to believe in you is yourself."
We are proud of Maria and all patients that take the steps they need to take to create a better life for themselves and for their loved ones. Congratulations to Maria and her son in making their dream come true.