LCH Pediatrician Encourages Early Childhood Development through Summer Reading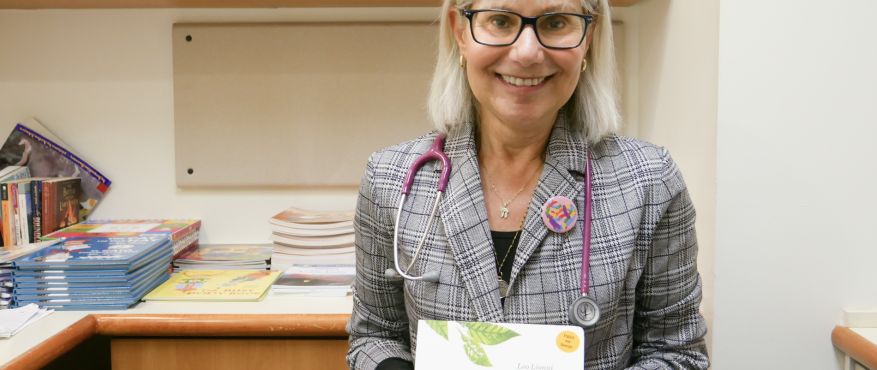 LCH pediatrician encourages children of all ages to continue their education and development through summer reading.
WEST GROVE, PA — June 7, 2023 – This summer LCH Health and Community Services (LCH) is promoting summer reading for all ages. Early childhood literacy has been a focus of LCH Pediatrician, Dr. Paula Brenn's since she noticed a need for the promotion in the community.
Paula Brenn, MD, FAAP has made a concerted effort to engage all children in reading, especially at a young age. She states, "Reading together when babies are as young as 3-4 months of age is important because the roots of language are already developing.  Not only will this help you bond with your baby, but will also improve your baby's language skills, cognitive development, and even imagination and creativity."
LCH has been able to assist children with language delays with the power of literacy. Through Pennsylvania's Title V Block Grant, the organization has been gifting books to children in the community of Southern Chester County. These books are bilingual and are entirely free with the assistance of this grant funding.
Throughout partnerships in the community LCH has the opportunity to share the importance of early childhood literacy while providing the tools, such as books, to put this into practice.
LCH extends their gratitude to the Pennsylvania Association of Community Health Centers (PACHC) for their part in assisting children with their healthcare needs. Amy Williams, Program Specialist for Behavioral Health and Substance Use Disorders at PACHC states, "every health center is doing great work, but this has really become a passion project of the providers and it has shown through the videos, the stories, and the pictures… showing the impact that it's had on the patients and the community – it was known from the beginning that is was something LCH wanted to take on and run with."
LCH is dedicated to the health of the community. Dr. Brenn is excited to see more children this summer and reminds them to keep reading! If you have any questions about your child's health, call LCH today at 610-444-7550.
About LCH:
LCH (LCH Health and Community Services) is a diverse, dynamic health care and patient services team that is dedicated to helping adults, teens, and children to stay healthy. LCH believes in quality, integrated, person-centered care that supports health and well-being for all. Founded in 1973, LCH has been changing lives for fifty years. LCH accepts Medicaid, Medicare, and most private insurance. Insurance or no insurance, LCH will take care of you. LCH evaluates our patients to determine their eligibility for discounted services. Our sliding scale fees are based on patient's income and family size. LCH doesn't turn anyone away due to inability to pay. www.LCHcommunityhealth.org
About PACHC:
The Pennsylvania Association of Community Health Centers (PACHC) is the state's primary care association supporting community health centers and promoting the mission to provide affordable, quality primary healthcare for all.  For more information, please visit https://pachc.org/