LCH Earns Highest Level of Quality Recognition
La Comunidad Hispana (LCH) in Kennett Square is proud to announce its new designation as a Level Three Patient Centered Medical Home (PCMH). LCH has been a Patient Centered Medical Home since 2012, but was recently upgraded to the highest possible quality designation, level three.
For more than 40 years, LCH has provided health care and social services to low-income individuals across southern Chester County.  LCH uses an integrated model of care to help those they serve stay healthy, build strong families, and lead productive lives. As a Patient Centered Medical Home, LCH offers the consistent patient-provider relationship that encourages a partnership focused on improving individual health.  These strengths were recognized by the Level Three designation award.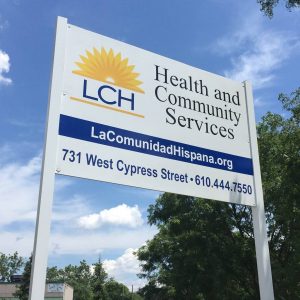 LCH Board President Ronan Gannon notes, "LCH's person-centered care model empowers patients to partner with their provider in developing a plan to improve health over time. Offering this model of care at the highest possible level of quality will help us fulfill our mission of improving the health of southern Chester County as a whole."
The National Committee on Quality Assurance (NCQA), the certifying body providing this designation, reports "One in six primary care physicians practices in an NCQA-recognized PCMH.  LCH is among an elite group that has demonstrated its commitment to advancing quality in health care."
LCH President and CEO Alisa Jones adds, "We are proud to be recognized for the quality and ease of access of our physical and mental health services. We make our services accessible during evening hours and follow up consistently with our patients to make sure their health concerns are being addressed effectively."
LCH is especially proud to make this announcement during National Health Center Week (August 7-13). About 24 million people across the U.S. receive their health care at a community health center such as LCH. LCH provides integrated physical, mental, social and dental health services to low-income working people, who often have either no insurance or public insurance plans such as Medicaid, which many providers do not accept. Most uninsured patients pay just $20 for a doctor's visit. Community health centers are cost-effective and high-quality health care facilities that are essential resources for healthy communities.