LCH distributes hundreds of coats to families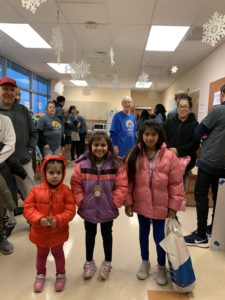 Hundreds of children across southern Chester county started their weekend with a new coat by attending LCH's (La Comunidad Hispana) annual Warm Wishes coat distribution on Friday.
While this holiday tradition is over ten years old, this is only the second year that the event took place at the health center's newest location in West Grove (105 Vineyard Way West Grove, PA 19390), across from Luther House and next to Willowdale Chapel's Jennersville campus. "We love hosting the event here," said Amanda Blevins, Community Engagement Manager.  "It is more central across our service area, and it is a great way for the community to see our space and learn about our services."
The West Grove location currently houses LCH's Women's Health Center and Dental Center.  Soon, LCH pediatrics will move to this location as this service expands into integrated health, mental health, and social services for kids in southern Chester County.  Dr. Paula Brenn, MD, FAAP, Pediatrician at LCH and one of the coat drive volunteers, said, "We can't wait to join the dental and women's health teams out here in West Grove.  "Many children in our community need coordinated care across all areas of health and wellness, and this is the space where we can provide the best support."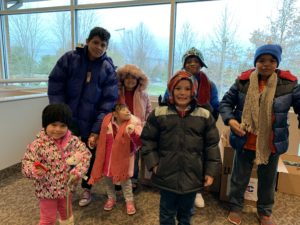 A total of two hundred and ninety-three coats were given away during the event thanks to the generosity of Concordville Nissan and Concordville Subaru, who donated three hundred coats through Auto Dealers CARing for Kids Foundation's Driving Away the Cold program and event sponsor UnitedHealthcare.  LCH's new Chief Executive Officer, Mariana Izraelson, Psy.D., PMP, joined volunteers and staff at the event in her first week at LCH.  "I was amazed by how much community support went into the event," she said. "Kids were able to choose the color that they liked and try them on.  It was a fun celebration and a wonderful experience."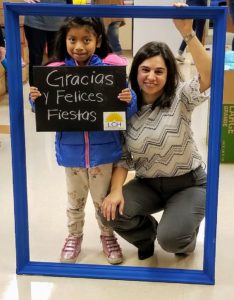 LCH's closet of caring is now stocked with additional sizes for when families come for service in the winter months that do not have coats for their kids.  "There may have been a family that either could not make the coat drive or didn't know about the event.," said Blevins. "We don't want any of our kids to go home cold." Community members are welcome to continue to donate new coats, hats, gloves and scarves to keep the closet full throughout the winter.  Contact Amanda for specific sizes that are needed at ABlevins@lchps.org or (610) 444-7550 x2006.
Click here to read published online version with VISTA Today.