LCH Dental Center relocates to West Grove and grows capacity
La Comunidad Hispana (LCH) has been providing high-quality dental care for southern Chester County residents since 2017. Its three-chair facility on McFarlan Road in Kennett Square became booked to capacity soon after opening, as the need for dental care is so high. LCH served more than 900 patients in 2017, and more than 1,300 in 2018.
To meet the high need, and to make LCH's dental care more accessible to those across southern Chester County, LCH opened an expanded Dental Center in West Grove in January 2019, with five chairs.  This expanded site is centrally located in LCH's service area, at 105 Vineyard Drive near the intersection of route 1 and route 796.  LCH's dental team has won high ratings from its patients for compassionate, quality care.  They provide dental exams, cleanings, dental sealants, fillings, extractions, and referrals to other needed services such as endodontia (root canals).  The Dental Center is open 8:00 a.m. – 5:00 p.m. most days, and until 7:00 p.m. on Monday evenings.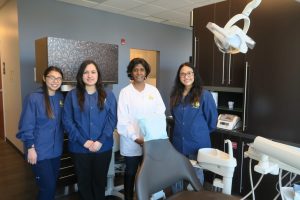 New patients are welcome across all LCH services and sites.  Call 610-444-7550 or visit www.LaComunidadHispana.org to make an appointment.  LCH accepts most insurance plans, along with Medicaid and Medicare.  Patients that do not have insurance are charged on a sliding fee scale based on income level and family size, and no one is ever turned away at LCH due to inability to pay.
Published online by Southern Chester County Weeklies on 2/5/2019. Click here to view.