LCH 5K group building community
Practices at Kennett High have paid dividends.
Yolanda Castañeda, Javier Soria, and Veronica Tinoco all share a new achievement in common: they completed their first ever 5K run during the 2018 Kennett Run last month. In collaboration with Kennett Run Charities, the event sponsored 10 registrations for community members that utilize LCH services. LCH's team, "Poco a Poco" or "Little by Little" in Spanish, ran with smiles despite the weather. "Even in the rain, it was awesome," said Castañeda, "I had so much fun I also ran in the New Garden Flying Field Run the Runway race. I cannot get enough."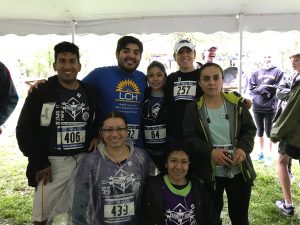 To get ready for the race, Castañeda, Soria, and Tinoco have been attending the LCH Walk/Run Group practices at the Kennett High School stadium track on Mondays and Wednesdays, from 5:30-6:30 p.m. for the past few months. "The practices have been a great way to spend time with my son, and to meet other members in the community. I am proud of finishing the Kennett Run, and at every practice I am getting stronger for the LCH 5K in September."
If you go, practices are open to the whole community. All ages are welcome to come and run or walk the track with the ultimate goal of completing a total of 80 laps before registration ends for the LCH Family fundraiser walk on Saturday, Sept. 22 in Anson B. Nixon Park. After 80 laps are completed during practice, the fee for the LCH race entrance is waived.
"We saw this as an opportunity to motivate community members and also reward them for their hard work," said Laura Mackiewicz, LCH Community Engagement Manager. "As a community health center, we want to find ways to make a healthy, active lifestyle fun and accessible to our members. There is a lot of intimidation when it comes to events like 5Ks, and we wanted to eliminate some of these barriers by hosting the practices for our members and the greater community. The coach of team 'Poco a Poco,' LCH volunteer Janet Rodriguez, plays a huge role in keeping the vibe upbeat, welcoming, and positive."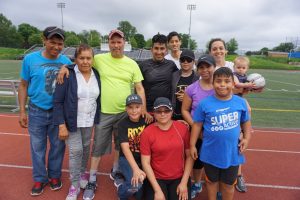 Rodriguez completed her first marathon last fall, and she sees her role as the coach to motivate others. "We are all stronger than we think. We need to share positive energy and we can do it. Little by little, poco a poco."
It is through Rodriguez's encouragement that Castañeda, Soria, and Tinoco are now regulars at the practices and thriving. Soria is looking forward to participating in the Mushroom Cap Half Marathon this fall. He said, "As soon as we finished the Kennett Run, I thought to myself, next time I can run farther. The race really made me aware of other opportunities in the community".
La Comunidad Hispana (LCH) is a nonprofit, federally qualified health center whose mission is to change lives by serving southern Chester County as the leading provider of integrated health and community services. Learn more at www.LaComunidadHispana.org.
Published by Daily Local News on June 18th, 2018 by Digital First Media. Click here to read the article from their website.