January 25
Partnership grows with Domestic Violence Center of Chester County (DVCCC)
Grant Improves Health Care Response to Domestic Violence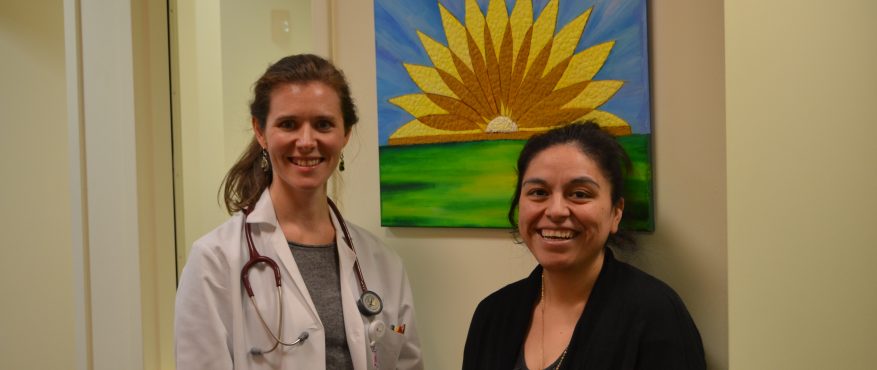 La Comunidad Hispana is one of six community health centers selected to receive funding, training, and support to address intimate partner violence. Support strengthens ongoing collaboration with the Domestic Violence Center of Chester County.
National nonprofit Futures Without Violence named La Comunidad Hispana (LCH) as one of six Health Resources and Services Administration (HRSA) supported community health centers in the nation that will receive funding to expand their capacity to support survivors and victims of domestic and sexual violence, an issue that affects one in every four women in the United States.
LCH will work with the Domestic Violence Center of Chester County (DVCCC) to promote the safety and health of people seeking services. The funding strengthens an existing partnership: LCH has hosted a satellite office for the DVCCC since 2011. The funding from Futures without Violence strengthens LCH's ability to collaborate and integrate services with the DVCCC through technical assistance, training, and resources to support the collaboration.
"Domestic violence and sexual abuse can directly impact a woman's health, even increasing her risk for chronic health outcomes such as asthma and heart disease, unintended pregnancies, HIV/AIDS and depression ," said Lisa James, director of health at Futures Without Violence. "These six outstanding health care centers and domestic violence programs are in a unique position to detect and respond to signs of abuse among their patients, and have the potential to make a tremendous impact in their communities."
LCH President and CEO Alisa Jones says that this collaboration is an essential service to patients.  "With our partnership, an LCH provider who sees a patient who has experienced domestic violence has an immediate, in-house referral and communication outlet with a DVCCC counselor. These patients are in a vulnerable state, and as a team we can provide them the immediate care and resources they need."
The pilot program is funded through a collaboration of U.S. Department of Health and Human Services including: the HRSA Bureau of Primary Health Care, the HRSA Office of Women's Health, and the Administration for Children and Families' Family and Youth Services Bureau, Family Violence Prevention and Services Program.
Since 1996, Futures Without Violence has managed the National Health Resource Center on Domestic Violence, supported by the DHHS Administration for Children and Families, Family Violence Prevention and Services Program to provide resources and trainings to health practitioners and advocates across the country and promotes model health responses to intimate partner violence. www.acf.hhs.gov/fvpsa.