185 flu shots, 18 health screenings at Oxford First Friday
2nd annual partnered wellness event with LCH (La Comunidad Hispana) and CCHD (Chester County Health Department) brings community together for health.
The Union Fire Company No. 1. of Oxford had more than just fire trucks to enjoy during the October First Friday in downtown Oxford.  In its bays were tables filled with staff and volunteers from the Chester County Health Department and LCH (La Comunidad Hispana).  Attendees were able to receive a flu shot and a wellness screening at no cost during the October 5th event.
Flu shots were provided by the Chester County Health Department.  Insured community members brought their ID cards, and those without insurance were still able to receive a flu shot at no cost.  Children as young as six months received the vaccine.  "This is such important community outreach," said Michele Steiner, Immunization Program Coordinator for the health department.  "Flu season is upon us, and the more people who receive the vaccine, the fewer outbreaks we will have that lead to kids missing school and parents missing work."
The wellness screenings were provided by LCH.  Community members were able to get their height and weight (BMI), pulse, sugars, and blood pressure checked by an LCH medical assistant along with an opportunity to chat 1:1 with an LCH Provider.  LCH Certified Nurse Practitioner Deb Moyers was providing the consults during the event.  "There were patients that I saw during the event that had alarmingly high blood pressures, and they were not aware of their condition," she said.  "Hypertension is such a scary chronic disease since it can be really hard to catch.  I am glad we are able to do community screenings like these, so we can get these folks in to be seen for possible medication and other interventions."
LCH Community Engagement Manager Laura Mackiewicz said it takes a team effort to make a screening like this a reality.  "The 185 flu shots administered along with the 18 health screenings completed were a true team effort.  LCH is grateful to have such a strong relationship with the health department and the fire station.  EMS Manager John Poole said that they look forward to hosting the screening at the fire station again next year at the October 2019 First Friday. "Together, we are building a healthier community."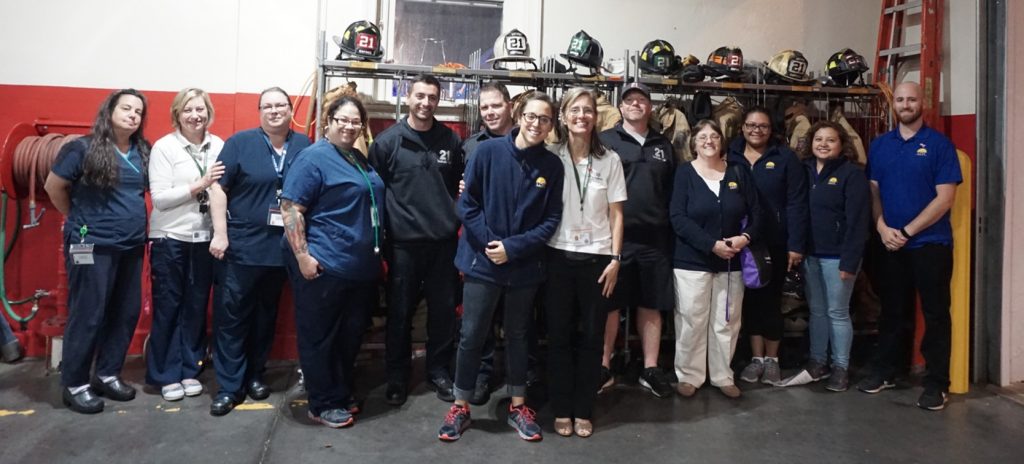 For those that missed the Oxford First Friday flu shots and have yet to be vaccinated, the Chester County Health Department is hosting the following upcoming flu shot events. Community members with insurance should bring their ID cards with them to the event, but those without insurance can still receive the vaccine at no cost. Visit www.chesco.org/flu to learn more.
| | | | |
| --- | --- | --- | --- |
| 10/25/2018 | Avon Grove High School | 257 State Rd, West Grove | 2:30 to 6:30 P.M. |
| 10/27/2018 | Phoenixville Hospital's Fall Festival | Phoenixville Hospital Parking Lot on Nutt Road | 10 A.M. to 2 P.M. |
| 10/29/2018 | Coatesville Senior High School | 1445 E Lincoln Hwy, Coatesville | 4 to 7 P.M. |
| 11/5/2018 | Owen J Roberts Middle School | 881 Ridge Rd, Pottstown | 3 to 6 P.M. |