Sonia Z. and Sonya B. are changing lives for their employees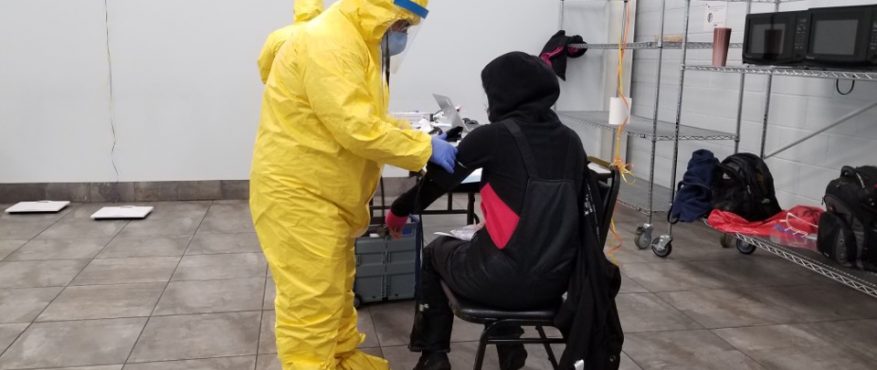 Sonia Z., from Manfredi Cold Storage/International Repack, and Sonya B., from First Generation Farms, have much more in common than their first names! They are both leaders at their respective places of employment and they strive to make a difference in the lives of the people they work with.
Sonia Z. started working at Manfredi Cold Storage/International Repack in the year 2000, the same year that she came to the United States from Jalisco, Mexico. Twenty years later, Sonia is working as the Assistant to the Manager at the same facility where she oversees the supervisors from various teams, manages the hiring program, organizes company events, and much more!
Sonia describes herself as somebody who dedicates herself to caring for other people in both her professional and personal life. Outside of work, for example, she spends much of her time making home visits to sick people as well as children who have Downs syndrome. She enjoys having conversations, bringing them things, and just spending time together. At work, Sonia has taken interest in the health and well-being of her employees. In early 2019, during a conversation with LCH's Workforce Development Coordinator about hiring opportunities, Sonia learned about LCH's Wellness Check program and immediately spoke with her supervisors about it. Shortly thereafter, LCH's medical teams came to Manfredi and gave medical checks to close to 80 employees in two sessions! Once LCH started doing remote COVID testing, Sonia was quick to connect.
When reflecting on hosting Wellness Checks and COVID testing at Manfredi/IR, Sonia says that, "It's really important to the company that we consider our employees, and that we take advantage of the benefits that LCH can offer… You know how in the United States healthcare can be very expensive, so a lot of people don't go to medical appointments because they're afraid of having to pay a lot of money… Our employees are very happy and they're always asking when we're going to host another wellness check!".
Sonya B. is a first-generation American, born in Southern Chester County to Mexican immigrants. Her family founded and operates First Generation Farms, so she has been involved in the mushroom industry for as long as she can remember. After studying retail management and organizational leadership, Sonya returned to the family business as the Director of Operations. Over the past two or three years, though, she developed a strong appreciation for the hard work that goes into the mushroom production from day one to day fifty-five. Sonya truly values the relationships she has with several of the employees at First Generation Farms as well as the hard work required to be successful in the mushroom industry. "Any job in the harvesting industry is labor intensive; it should definitely be appreciated, and the people should be looked after."
With this appreciation and care in mind, Sonya became very concerned for the employees at her family's farm when the COVID-19 outbreak started to spread towards South East Pennsylvania. Since First Generation Farms is a small, family-run operation, they were willing to explore any possible way to keep their employees healthy and feeling secure. As a member of the American Mushroom Institute, Sonya was quickly made aware of LCH's remote COVID Testing program. She says that she didn't even tell her father, founder/owner of First Generation Farms, about the program before reaching out. "I wanted to do it, I just said yes, and literally that afternoon I heard from Amanda (LCH's Community Engagement Manager)." Sonya and her family were aware that many farm workers in the region tend to forego routine medical appointments until they become necessary, so they wanted to take a proactive step and offer COVID-19 testing to those interested. "I want them to know that I care about them and they have a good resource in LCH."
Both Sonia Z. and Sonya B. have become members of LCH since working with our wellness and COVID testing programs and are looking forward to more opportunities to provide medical care to their amazing employees.
Learn more about LCH's COVID-19 Outreach Testing.