Hundreds turn out for LCH community event
Anson B. Nixon Park was filled with the sounds of cheer, laughter, applause, and Mariachi Flores on Saturday morning during the annual community 5K, Family Walk, and Kid's Dash hosted by La Comunidad Hispana.
The event drew over 250 participants. New this year, the 5K offered a cash prize to the top three male and female finishers. "We thought that adding the cash prize would attract more runners to the event," said race director Dave Berger. "It is a beautiful park, and a great cause, so we wanted to get the word out for runners of all ages and abilities to come out and enjoy the morning."
While the cash prizes attracted elite runners for the 5K, the 1-Mile Walk, Kids Dash, and team competition attracted families and their kids to come out for the event. "The team competition has grown every year," said LCH Development Director LeeAnn Riloff. "It has been fun to see the different themes and friendly competition."
This year, Team Liga Mundial Xtrema (LMX), which celebrated countries all over the world with scarves, flags, and pom poms, won with the largest number of team members, with team Poco a Poco coming in second place. The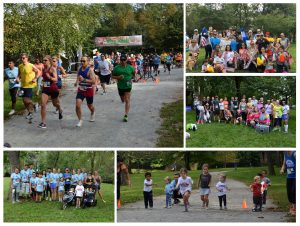 Running Like It's 1989 team, in outfits with neon colors and headbands, won third place.
Thanks to the community sponsorships and local participation, the event raised almost $20,000 for LCH's integrated health, social, dental, and mental health services which are available to all regardless of ability to pay or insurance status. "This event, along with local grants, private donors, and federal funding, helps to keep our doors open for the nearly 7,000 members of the greater southern Chester County community who receive services at our four locations."
Article published by Daily Local News. Click here to published version online. Click here to view more photos of the event, courtesy of Greg Gurev, MySherpa 2018.