COVID-19 Updates
Important information and LCH service updates about COVID-19 as of April 30, 2021.
As a Federally Qualified Health Center, LCH is proud to be a Pennsylvania Vaccine Provider site for the distribution of COVID-19 vaccine. We are currently administering the Moderna vaccine to patients and community members.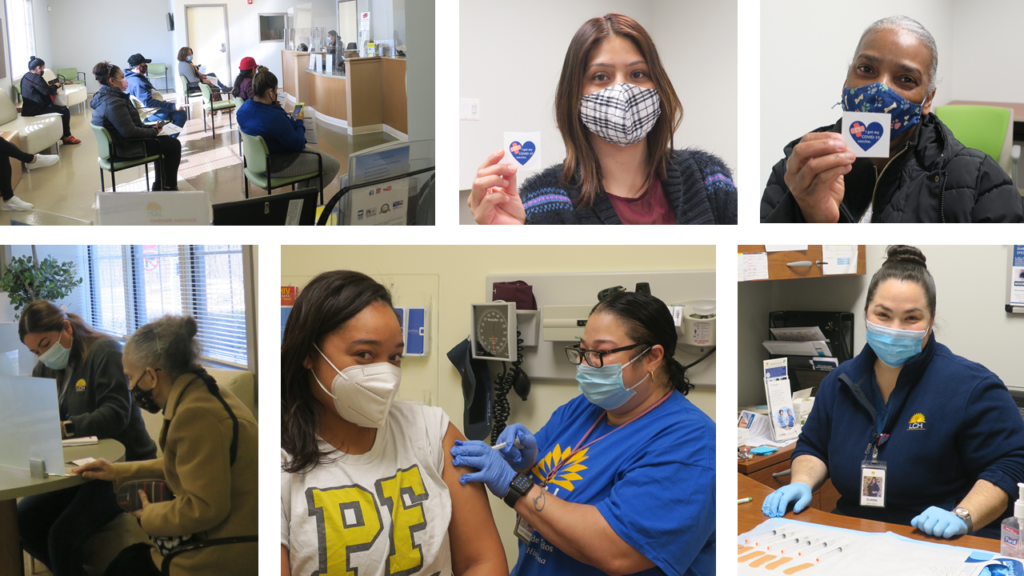 Vaccine Resources
It is so important to stay stay informed as vaccines continue to be distributed throughout our community.
Get your vaccine! The time is now!
For Your Safety
The safety of our patients and our staff is our priority.
When you Arrive at LCH:
LCH has made the decision to keep our doors locked at each of our locations. This will help to better control the traffic of patients coming in to our waiting rooms. Each location now has a doorbell. We are asking patients to ring the doorbell and wait for a Member Relations Specialist (MRS) to open the door.


The MRS will then (1) take temperatures and (2) ask a series of questions related to COVID-19 symptoms.


Every person who comes in to an LCH facility will be asked to wear a mask that covers their mouth and nose upon arrival.


At this time, we ask that you please come alone to your appointment. Patients who require additional assistance, such as children, patients with special needs, or elderly patients, can come to their appointments with one support person.


We will look a little different, with our extra gowns and masks. It is still us under there!
Thank you for your continued understanding as we work together to fight COVID-19.
Stay up-to-date with current safety guidelines for you and your family: visit www.CDC.gov/coronavirus for more information.

Call Us Immediately If:
You have fever, cough, or shortness of breath.
You have been in contact with someone who tested positive for COVID-19.
COVID-19 Testing
For symptomatic patients.
Patients with upper respiratory and flu like symptoms will continue to be seen in our Outdoor Medical Unit in Kennett Square.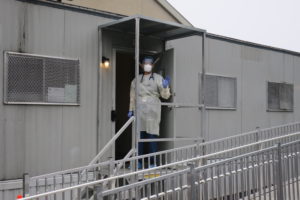 Waiting for the results of your COVID-19 test?  Stay home & minimize your contact with others! Remember, you can spread the virus while you wait for your results.  "Stay home 'till ya know!"  Visit the Chester County Health Department's website for important information on public testing, vaccines, safety and wellness during the pandemic.
COVID-19 tests for LCH patients are available on-site in our Outdoor Medical Unit in Kennett Square at no cost after an assessment and evaluation from an LCH provider.


Appointments are required for COVID-19 testing at LCH.


Don't have a Primary Care Provider (PCP)? We can help you establish care at LCH as a new patient.


Current schedule for testing is Mondays 1pm - 5pm, Wednesdays 8am - 12pm, and Fridays 8am - 12pm.


LCH care teams are now providing on-site COVID-19 evaluation and testing to local mushroom farms.
Learn more
Overview of current LCH services during the pandemic.
Primary Care:
Primary care visits are now available in person and via Telehealth.
Chronic care appointments are now taking place in person for patients managing diseases like diabetes, high blood pressure, etc.
Acute visits are still available. Examples of acute visit symptoms are: fever, cough, sore throat, runny nose; shortness of breath; chest pain; asthma attack; recent abdominal, back, joint pain or swelling; minor injuries, strains, sprains; minor acute procedures; wound checks; rashes/hives, tick bites, and allergic reactions; problems urinating; or any health related concerns.
Routine physicals for adults are now available in person.
Immigration physicals are available in person.
New patients welcome. More information on primary care services in our Kennett Square and Oxford locations.
Pediatrics:
Our outine and well child visits are now open to children of all ages, including vaccines and school physicals.
Acute visits for all ages are available in person or via Telehealth.
New patients welcome. More information on our pediatric care in West Grove.
Behavioral Health:
In person integrated behavioral health and outpatient therapy visits are available in person in all of our locations.
In person psychiatric medication management appointments are available.
Integrated behavioral health, outpatient therapy, and psychiatric medication management are still available via Telehealth.
New patients welcome. More information on our behavioral health services.
Dental:
All appointment types are now available in person, but on a limited schedule in order to minimize the number of people in our facilities.
Visits include: routine cleanings and check-ups; dental urgent care (lost fillings, tooth extractions—procedures that don't require a drill but could potentially cause pain or infection if left untreated); and dental emergencies (dental pain, broken teeth, abscess, facial swelling, third molar pain-wisdom teeth, dental trauma due to injury, and any lost or broken fillings that are causing pain, bleeding).
Dental visits are also available via Telehealth.
New patients welcome. More information on our dental care services in West Grove.
Women's Health:
All routine visits are now available in person. Visits include: annual exams, cervical cancer screening, family planning, pregnancy testing, STD screening, prenatal care, menopausal care, resources for teens.
In person and Telehealth appointments remain open for our current prenatal patients and patients with women's health concerns.
New patients welcome. More information on our women's health services in West Grove.
Social Assistance:
Caseworkers are available via phone and Zoom Monday – Thursday 8:00 a.m – 5:00 p.m. and Friday 8:00 a.m. – 12:00 p.m. Limited face-to-face appointments are now available at all of our locations.
Caseworkers will continue to be available over the phone (610) 708-0300 option 8.
LCH legal clinics will continue to take place over the phone.
More information on our social assistance services.
Telehealth appointments are now available
Learn more
Resources
There are many resources in the community that are available to help you during the pandemic. LCH is here to help you navigate these resources.
Community Resource Links:
LCH health education videos are available on our YouTube channel. Tips like caring for your mask, wellness self-care, personal hygiene safety, and more.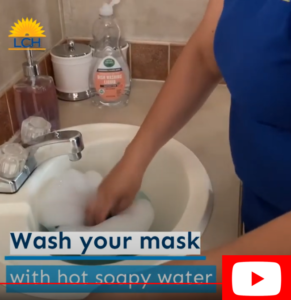 Latest From Our Blog
Sep 11, 2020

May 7, 2020

Mar 20, 2020
Watch our latest health tip videos during the pandemic
Go to YouTube
Community Support
Every penny counts as COVID-19 continues to be a part of our everyday lives.  Thank you for your support!
Join us in changing lives
We are so grateful for all of the community support that has come to LCH during the pandemic. These donations have helped us budget for additional staff, Personal Protective Equipment (PPE), supplies, and technology needed provide health and community services to all.
Our list of foundations who have supported LCH during COVID-19 (updated July 20, 2020):
Bell-Cole Family Foundation
Ann and Steven Hutton Fund, a fund of the Chester County Community Foundation
The Marshall Reynolds Foundation
The Oxford Area Foundation
Michael and Nancy Pia Fund, a fund of the Chester County Community Foundation
Visit our Get Involved page to see our full list of supporters and our annual reports.