COVID-19 Updates
Updates about COVID-19 as of August 18, 2021 from LCH Health and Community Services.
As a Federally Qualified Health Center, LCH is proud to be a Pennsylvania Vaccine Provider site for the distribution of COVID-19 vaccine. We are currently administering the Moderna vaccine to patients and community members.
At this time, LCH is not administering COVID-19 Booster shots or Third Dose shots, but this will likely change soon. Please stay connected on our COVID website page and Facebook page for the most up-to-date information on COVID-19.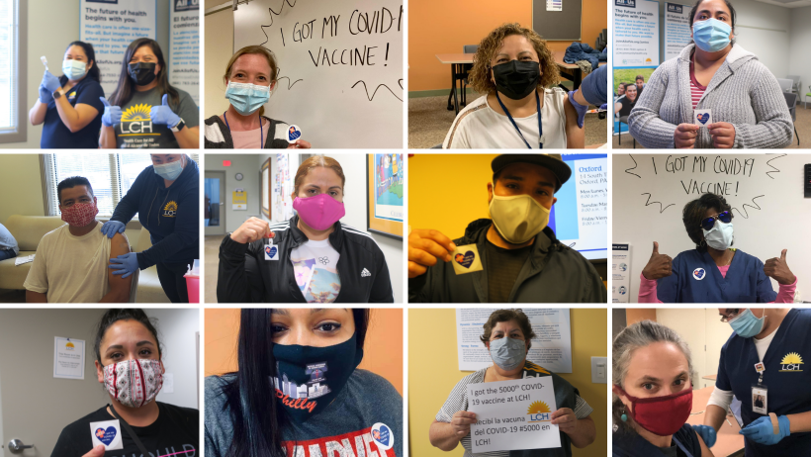 Vaccines are available by appointment for patients and community members from 10:00 a.m. to 5:00 p.m. Wednesdays and Thursdays in our Kennett Square location and Tuesdays in our Oxford location.
Are you interested in a COVID-19 vaccine? Please call us at (610) 880-3580. You can also visit vaccines.gov to find other locations nearby that are administering vaccines.
Now more than ever, vaccines will protect the most vulnerable in our community who are not yet eligible to get one.
Vaccine Resources
It is so important to stay stay informed as vaccines continue to be distributed throughout our community.
Get your vaccine! The time is now!
For Your Safety
The safety of our patients and our staff is our priority.
When you Arrive at LCH:
LCH has made the decision to keep our doors locked at each of our locations. This will help to better control the traffic of patients coming in to our waiting rooms. Each location now has a doorbell. We are asking patients to ring the doorbell and wait for a Member Relations Specialist (MRS) to open the door.


The MRS will then ask a series of questions related to COVID-19 symptoms and take your temperature.


Every person who comes in to an LCH facility will be asked to wear a mask that covers their mouth and nose upon arrival.


At this time, we ask that you please come alone to your appointment. Patients who require additional assistance, such as children, patients with special needs, or elderly patients, can come to their appointments with one support person.


We will look a little different, with our extra gowns and masks. It is still us under there!
Thank you for your continued understanding as we work together to fight COVID-19.
Stay up-to-date with current safety guidelines for you and your family: visit www.CDC.gov/coronavirus for more information.  Although masks are no longer required in many places for people fully vaccinated against COVID-19, the CDC and Pennsylvania Department of Health continue to require wearing of masks in health care settings, whether or not you are vaccinated. Thank you for wearing a mask during your visit to our health centers!

COVID-19 Testing
For symptomatic patients.
Patients with upper respiratory and flu like symptoms will continue to be seen in our Outdoor Medical Unit in Kennett Square.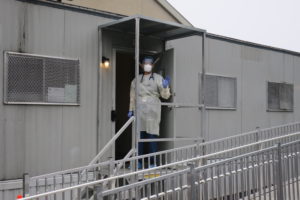 Waiting for the results of your COVID-19 test?  Stay home & minimize your contact with others! Remember, you can spread the virus while you wait for your results.  "Stay home 'till ya know!"  Visit the Chester County Health Department's website for important information on public testing, vaccines, safety and wellness during the pandemic.
COVID-19 tests for LCH patients are available on-site in our Outdoor Medical Unit in Kennett Square at no cost after an assessment and evaluation from an LCH provider.


Appointments are required for COVID-19 testing at LCH.


Don't have a Primary Care Provider (PCP)? We can help you establish care at LCH as a new patient.


LCH care teams are available to provide on-site COVID-19 testing and vaccines
Contact Us
Overview of current LCH services during the pandemic.
All of our services are in full operation and opened at full capacity.  We also have the option of Telehealth for many of our visit types, including:
Telehealth appointments are now available
Learn more
Resources
There are many resources in the community that are available to help you during the pandemic. LCH is here to help you navigate these resources.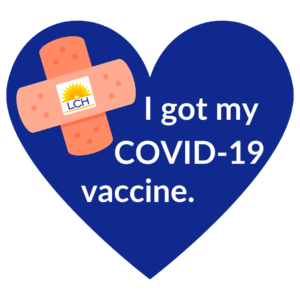 Latest From Our Blog
Aug 19, 2021

Jun 17, 2021

Sep 11, 2020
Watch our latest health tip videos during the pandemic
Go to YouTube
Community Support
Every penny counts as COVID-19 continues to be a part of our everyday lives.  Thank you for your support!
Join us in changing lives
We are so grateful for all of the community support that has come to LCH during the pandemic. These donations have helped us budget for additional staff, Personal Protective Equipment (PPE), supplies, and technology needed provide health and community services to all.
Our list of foundations who have supported LCH during COVID-19 (updated July 20, 2020):
Bell-Cole Family Foundation
Ann and Steven Hutton Fund, a fund of the Chester County Community Foundation
The Marshall Reynolds Foundation
The Oxford Area Foundation
Michael and Nancy Pia Fund, a fund of the Chester County Community Foundation
Visit our Get Involved page to see our full list of supporters and our annual reports.