An Apple a Day…: LCH & The EatFresh Program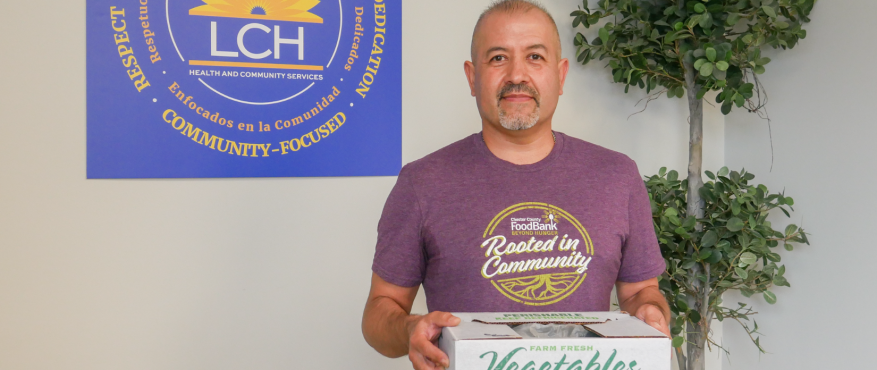 33% of Pennsylvania adults and 18% of Pennsylvania children are affected by obesity according to the Pennsylvania Department of Health. These numbers are at a higher rate amongst the Hispanic population. LCH wants to change that for our community. 
Seven years ago, Adolfo Lopez heard about the EatFresh program starting at LCH in partnership with the Chester County Food Bank. He was a patient at LCH and thought it would be a great idea to join as he had always been a fan of cooking.  
He saw the value in the classes instantly and began using ingredients he had never tried before. "Well, it has helped me a lot because previously I didn't know of some vegetables — I saw them in the store, but I had no idea how to cook them and with this class I've learned a lot about that — knowing how to cook them and all the nutrients each vegetable provides us", said Adolfo.  
But this journey wasn't always easy for Adolfo. Being Mexican came with a traditional way of cooking. "We, who come from Mexico, bring a tradition of certain foods. These classes teach us different ways of cooking and a different way of consuming what is healthier. They make it a habit to cook", said Adolfo.  
Adolfo has taken on the role of cooking for his family and loves being able to put to practice what he learned in the class. He's been able to see the impact his cooking has on his family's health. Now he is teaching the class for the EatFresh program. 
"I even tell them personal stories. I tell them things that have helped me. I am pre-diabetic and I used to take medication and because of these classes and the food I've been eating, I don't have to take my medication anymore. Life is not about eating but rather eating what is right for you".  
It's taken a lot of convincing for people that he interacts with to choose to eat healthier and try new ingredients. But after years of attending the program as a student, this year he has become the instructor of the class. "… as an instructor I am motivating people and that makes me happy because I've always loved cooking and now, I have the opportunity to teach that to others what brings me joy".  
Adolfo can share what he's learned throughout the years of his participation in this program and throughout his life of loving the kitchen. His dream was always to start a restaurant and now with the help of LCH and the EatFresh program he will always have a list of dishes he can turn to if he decides to open it one day.  
If you or someone you know is interested in taking part of the EatFresh program at LCH contact our Program Coordinator, Monica at 610.444.7550 ext. 2266.