More access to care with LCH's expanding services
Team-based care, new staff bring more availability and variety of care to local community health center.
La Comunidad Hispana (LCH) has a rich history of serving the southern Chester County community.  Now, it has more resources than ever to be able to take care of its residents.
LCH recently transitioned to Team-Based Care, a model in which a provider (physician or nurse practitioner) is paired with a team including a registered nurse, medical assistants, a patient services representative (PSR), a social services caseworker, and a behavioral health consultant (BHC).  Together, each team shares a panel of patients, coordinating care and following up with the patient's goals and needs.  LCH has four Primary Care teams, as well as a Women's Health team and a Dental Center team.
"We are able to provide each patient with real continuity, since they see not only me each time they come to LCH, but each member of my team," said LCH Director of Primary Care Federico Ceppa, M.D.  "Now that I have a caseworker and an PSR on my team, I can go right to them for help with scheduling a specialty appointment for my patient.  With a BHC on my team, I can make sure each patient is getting mental health care if they need it.  Our team is getting to know each other better, and as a result we are all getting to know our patients better."
In addition to implementing Team-Based Care, LCH has grown in its capacity to take care of children and women with the recent hiring of Pediatrician Paula Brenn, MD, FAAP, and Women's Health Nurse Practitioner Kathryn Severson, APN, WHNP-BC.  New patients are welcome across all LCH services and sites.  Call 610-444-7550 or visit www.LaComunidadHispana.org to join their practice.  Most insurances are accepted with LCH, along with Medicaid and Medicare. Patients that do not have insurance are charged on a sliding fee scale based on income level and family size, but no one is ever turned away at LCH due to inability to pay.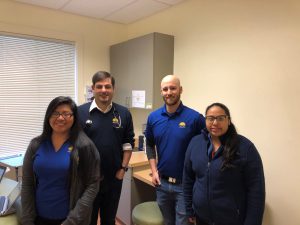 Members of the LCH Blue Team left to right: Monserrat Balbuena, Medical Assistant, Dr. Federico Ceppa, M.D., Director of Primary Care, Clark Davis, Caseworker and Workforce Development Program Coordinator, Johana Guzman, Medical Assistant.
Click here to read the posting published by The Unionville Times on January 16th, 2019.
Click here to read the posting published by Southern Chester County Weeklies on January 17th, 2019.