LCH Behavioral Health Team Expands
New staff and technology at community health center provides more access to care.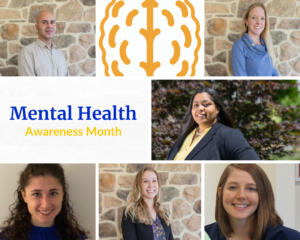 May is National Mental Health Awareness Month.  The topic of mental health has been top of mind for many this month as families continue to quarantine and essential workers perform their job duties with the added risk of exposure.  Others are feeling the stress of losing their jobs or trying to care for loved ones with limited resources during the COVID-19 pandemic.
LCH (La Comunidad Hispana), which serves nearly 10% of the southern Chester County community through its three health centers, has recently added new staff to their behavioral health team to better address mental health needs during the pandemic and beyond.  "LCH has a rich history in the southern Chester County community as health center that is here for everyone," said Mariana Izraelson, Psy.D., PMP, Chief Executive Officer, "and our behavioral health team plays an vital role in our ability to provide care.  It is so timely and so important that these services are growing."
The bilingual team is led by Abner Santiago, LPC, Behavioral Health Manager, who oversees Behavioral Health Consultants (BHCs) Anna Roosevelt, LCSW, Courtney Erroa, LCSW, Meredith Sullivan, CADC, and Marykate McShane, MSW. BHCs provide both integrated behavioral health and outpatient therapy.  Daisy Lara, DNP CRNP FNP-BC PMHNP-BC, Certified Psychiatric Mental Health Nurse Practitioner, provides psychiatric medication management. Click here to watch a brief video on how the different types of BHC services work at LCH.
Santiago commented on the many barriers to care for community members in need of behavioral health services. "In addition to common hurdles like insurance, transportation, and language, there is a stigma that surrounds mental health and wellness, which is a barrier in itself."  The behavioral health team at LCH works to address stigmas through patient health education and community awareness.  Most recently, the team started to provide behavioral health services through Telehealth.  "This has been a great way to reach our patients, especially during the pandemic," Santiago said. "Patients that may otherwise be completely isolated are connecting with us and getting the support that they need."
Behavioral Health at LCH is available to all members of the community without being an established patient.  To learn more, visit LaComunidadHispana.org/behavioral-health or call (610) 444-7550.
What is behavioral health? Behavioral health is the ability to manage the daily challenges and stress of life, as well as the exploration of mental illness such as depression and anxiety and how these diseases affect overall behavior.
What kind of behavioral health services does LCH provide? LCH provides three levels of care: (1) Integrated Behavioral Health (2) Outpatient Therapy and (3) Psychiatric Medication Management.
Do I have to be a patient of LCH or need health insurance? No.  Behavioral health services are available to all members of the community without being an established patient. LCH evaluates everyone to determine eligibility for discounted services. Their sliding fee scale is based on income and family size, but no one is turned away due to inability to pay. LCH accepts most private insurance, Medicaid, and Medicare.