Hope = Esperanza Festival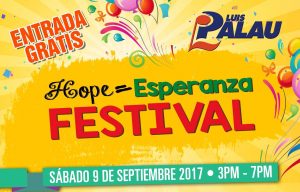 We invite you to participate in the Festival of Hope this September 9 in Jennersville – West Grove. Our goal is to celebrate cultural diversity in Souther Chester County—Anglos and Latinos united to enjoy music, Latin American food, free games and festival attractions, a cycling acrobatics show, mariachi and dance events, prizes, and the message of hope by the international lecturer Luis Palau in Spanish.
Click on the link below for more information:
http://www.esperanzafestival.com/
Te invitamos a participar del Festival de la Esperanza este 9 de septiembre en Jennersville – West Grove. Nuestro objetivo es celebrar la diversidad cultural en Souther Chester County—Anglos y Latinos unidos para disfrutar de música, comida Latinoamericana, juegos y atracciones del festival gratuitos, Show de acrobacias en bicicleta, BMX, Clínicas de Fútbol (Skills Challenges), Mariachi y bailes tradicionales de México, premios y el mensaje de esperanza por el conferencista internacional Luis Palau en español.
Click aquí para más información:
http://www.esperanzafestival.com/