Fourth annual LCH 5K and family walk to welcome and celebrate all
Runners and walkers across southern Chester County support LCH's health and human services for all.
Anson B. Nixon Park will host LCH's fourth annual community 5k, family walk, and kid's dash on Saturday, September 21st. LCH is a local community health center that provides integrated health and human services for all regardless of insurance status or ability to pay. "This event reflects our mission as an agency that embraces and celebrates all," said Director of Development LeeAnn Riloff. "With a new course that will take runners on a scenic course through and around the park, along with cash prizes, a live Mariachi band, and family health activities, we know there is something for everyone."
Registration begins at 8:00 a.m. on Saturday, September 21st, in the park with live music by Mariachi Flores. The kid's dash will start at 9:00 a.m., immediately followed by the 5K start and then the walk start at 9:05 a.m. Students majoring in public health from West Chester University will have health activities during the event. Awards and announcements will take place at 10:30 a.m., including awarding cash prizes for the first ($250), second ($100), and third ($50) place winners. Team prizes will be given out to the largest team, largest family team, and most team spirit.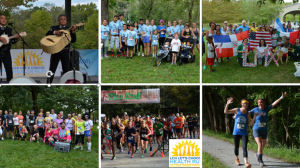 "This is a really fun morning for the community," said Steve Castellano, LCH's Director of Business Operations and Interim President and CEO. "We love seeing our supporters, our members, our staff and the greater community come together to celebrate LCH." The event, along with local grants, private donations, and federal funding, helps to provide services for over 8,000 residents of the greater southern Chester County community who receive services from the LCH health centers in Kennett Square and Oxford and the Women's Health Center and Dental Center in West Grove.
LCH is especially grateful for the event's lead sponsors, who include Coatesville Youth Initiative, the Chester County Community Foundation, Franklin Mint Federal Credit Union, Phillips Mushroom Farm, and The Tri-M Group.
To register, go to https://lchcommunityhealth.org/event/lch-5k-family-walk-childrens-dash/. Register by Thursday, September 5th, to guarantee your race shirt size.